2:29 AM
Ryan , Posted in
Game Review
,
0 Comments
I didnt get a chance to watch the game with my own basketball league going on but I caught the highlights and box scores.
It was a typical Bulls bounce back game and vs a terrible team. The Bulls did look sharper. Passing was the big stat with 30 some dimes for the team. Boozer looked like Boozer. That will call the dogs off him a bit(crazy Bulls fans who want him gone..already). Just glad to see that the Bulls didn't play down to such a sorry team(its ok Minn we were that sorry team once.. Ron Mercer you say?).
Omer made the SC top 10 with his block on love. No soup for Love tonight. Deng looked sharper. I would love to see the Bulls do this to my home state team the Pistons on Friday. Keep the good vibes rolling.
Noah sat out. I know him and Boozer need to play on the same court but this wasn't worth the risk. Lets see if he goes on Friday. Derrick Rose seemed to take care of the Ball better too. He always improves after a shitty game which is nice since some players just let it get worse since they lose some "swag" or whatever that is.
I was suppose to go to this Bulls games in Detroit but work got in the way. Still pretty bummed about it. I guess FSN will have to do. Tried to get Playoff tickets too but with the drive from Michigan and the prices of the tickets its pretty much out of the question. Plus new born. Guess I will be waiting until next year.
Now lets flash back to a few T-Wolves pictures. Just in honor of how sorry this franchise has been(besides drafting KG).
It never gets old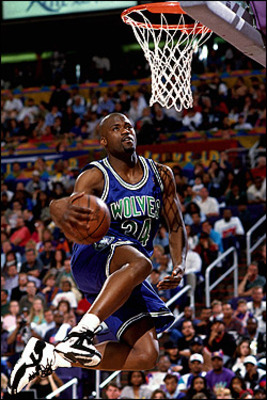 Isn't he is jail?
Stretch it out.. hair is money




The worst 1st pick ever... don't even challenge it.